Livestreams on rimondo.com
Horse shows that you can watch right now!
On rimondo.com you can now also experience a lot of horse shows live. Take a look at which tournaments are currently being broadcast.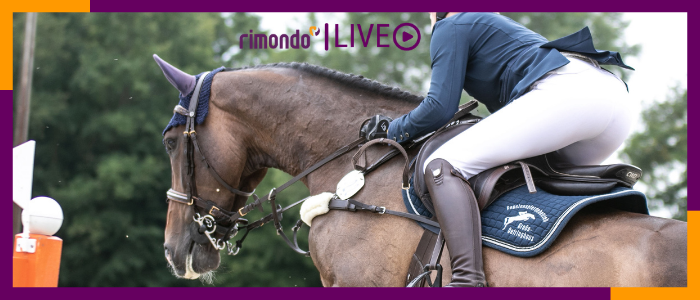 Corona has put a spoke in the wheel of many people's plans. Including us equestrian fans, who enjoy so much being spectators at dressage and show jumping competitions, cheering along with the athletes. Our consolation for you: We are constantly streaming numerous horse shows and breeding events - live and free of charge.
Below, you will find the overview of the tournaments and get to the respective livestream via the links.
Germany
Reitturnier Westergellersen (13.04.2021)
Reitturnier Münster-Handorf (13.04.2021)
FEI Reitturnier Westergellersen (15. - 18.4.2021)
FEI Reitturnier Westergellersen (15. - 18.4.2021)
Reitturnier Coesfeld-Lette (16. - 18.04.2021)
Reitturnier Lampertheim (16. - 18.04.2021)
Reitturnier Handorf (17.-18.04.2021)
These events are also filmed (but not broadcast live):
---
Right in the middle of equestrian sports
Many riding clubs and organizers are doing everything they can to host horse shows even under these difficult circumstances. Still all tournaments have to take place without spectators. But that doesn't mean you have to do without. In our livestream you can watch local, regional and even international horse shows for free. Watch your favorite competitions, share the riders excitement and get information about their horses on rimondo. A unique complete package for your relaxed weekend at home.
Dressage, show jumping or horse breeding?
On rimondo you will find everything! Streams of dressage and show jumping competitions up to advanced level, live broadcasts of foal shows and much more. Stay up to date and watch the events that interest you the most.
What else is missing from this TV program?
Right, the preview! You can find out about upcoming equestrian events in our tournament calendar on rimondo. Simply filter by date and location, or view only the tournaments with results and / or videos. In this overview, you can always find, which horse shows and events we will be filming and broadcasting next.
Missed a tournament?
No problem! In our media library you will find countless videos of horse shows and breeding events.
Not a Pro member yet?
As a rimondo Pro member you have unlimited access to the media library and many other benefits. Click the button for more information!
---